Keeping Your Commercial Building Safe
4/22/2022 (Permalink)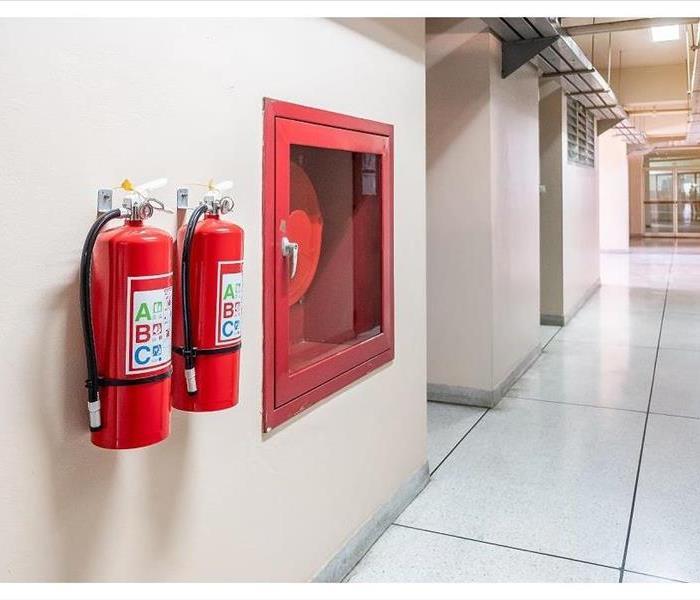 Fires can happen anywhere and anytime when you least expect them, so it's important to make sure you are prepared properly for any unwanted disaster. Hears a few things to check off to help protect your building, assets, and occupants in the event a fire does start up in your building.
Fire Alarms
Fire Alarms are the first line of defense when dealing with a fire. They quickly alert everybody in the building that there is an emergency and allows them to escape safely before it gets too dangerous. It's very important to conduct and go over drills to ensure that everyone understands the evacuation plan when it is necessary.
Emergency Lights/Signs
Emergency lights and exit signs are required to guide occupants out of the building in a difficult situation. Even if you know the inside and outside of the building like it's in the back of your head, it can still be confusing to navigate during an emergency, especially in dark and smokey conditions. It's recommended to have these checked once every month or so to make sure they are running correctly in critical situations.
Closing Doors
No one's first thought during a fire is closing doors, but actually closing doors can help prevent the spread of the fire within the building, giving others time to evacuate and help preserve some of the building and contents just a tad bit better. Even if the doors aren't fire-rated, the simple act of closing them can help contain the smoke, fire, and heat to certain areas of the building.
Sprinkler System
Most commercial buildings have a sprinkler system to contain and put out any fire that has started within the building. They react to heat, and it's important to maintain and make sure they are in working condition so that they deploy in the right situation. It's also very important to take note that there is nothing in the way of the sprinkler heads obstructing the flow of water.
Fire Extinguisher
Fire extinguishers provide the ability to put out any small fires preventing it from spreading into something you cant handle on your own. They should be placed around your whole building and the type of fire extinguisher should match the potential hazards around it. It's also probably a good idea that everyone in the building is trained on how to use a fire extinguisher, you never know who might run into it first.
Even though you might have all these boxes checked sometimes a fire just gets too out of hand and your building sustains fire damage. At SERVPRO of Northridge and SERVPRO of Granada Hills, we have the training, expertise, and resources to handle any size disaster and get your building back "Like it never even happened."