Fire Safety Tips While Cooking
4/15/2022 (Permalink)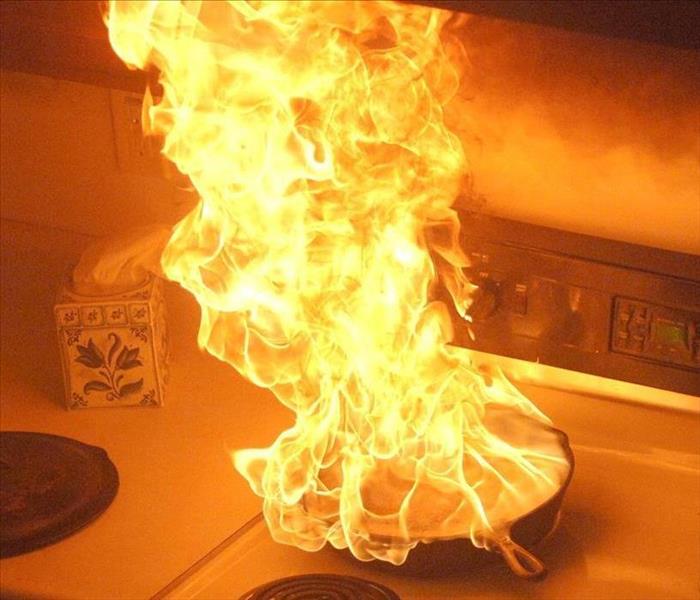 One of the leading causes of fire in the kitchen is unattended cooking, specifically while using the stove. Even though we don't usually think of cooking as a safety risk you can never be too sure what will occur in the future. Learning and understanding the kitchen fire safety risk can make all the difference.
Don't Be Too Far from the Kitchen
If you are boiling, frying, or grilling your food remain in the kitchen at all times in order to prevent any unwanted surprises. In the event that there is an emergency make sure you turn off the stove before leaving the kitchen. On the contrary, if you are baking, simmering, or roasting something you don't need to be in the kitchen watching it but it is necessary to remain inside your home to check on your food here and there.
Know What to Do When Something Occurs in the Oven
Most well known fire damage safety precautions have to do with the stove but no one really talks about what to do if the fire starts in the oven. If you come back to a fire in the oven its best to turn off the heat and keep the oven door closed until the fire dies out.
Clear Flammable Objects Away from the Cooking Area
When were cooking we often use things like oven mitts, towels, and sometimes wooden utensils. In the event a fire does start having these items near will higher the risk of the fire spreading, leading to more damage and a larger fire to put out. Keeping these items stored in cabinets or a good distance away when finished using would lesson the risk of a fire spreading larger then it should be.
If a fire does start to spread causing damages and leaving behind soot and odor SERVPRO of Northridge & SERVPRO of Granada Hills is here to help and get your property back like it never happened.
Have questions? Call SERVPRO of Northridge (818) 993-9339